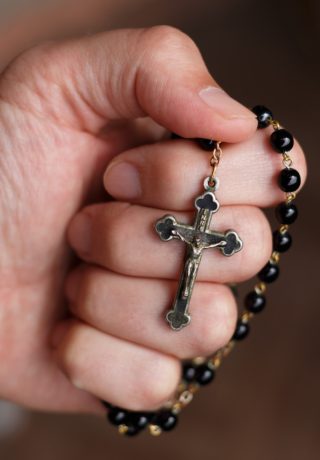 Pope Francis requests praying the rosary for world peace during May
We join in  solidarity with Pope Francis, on May 1, 2018 who asks all to join him in praying the rosary during May for world peace, especially in Syria.  He made a pilgrimage to the Shrine of Our Lady of Divine Love to initiate the rosary for May. Pope Francis consecrated the world to the Immaculate Heart of Mary on Sunday, October 13, 2013.
To join Pope Francis in prayer during May using the Rosary of Joyous Mysteries for World Peace please click here:    

Message on Rosary for World Peace given by Pope John Paul II on Sept. 29, 2002
Joyful Mysteries – Mary Queen of Peace
Dear Brothers and Sisters!
1.  The rosary is a contemplative view of the face of Christ carried out, so to speak, through Mary's eyes. Therefore, it is a prayer that is at the very heart of the Gospel, and is in full harmony with the inspiration of the Second Vatican Council …. It is necessary that the Church "go into the deep" of the new millennium beginning with the contemplation of the face of Christ.
2. I wish to entrust once again the great cause of peace to the prayer of the rosary. We are faced with an international situation full of tensions, of incandescent dimensions. In some parts of the world, where the confrontation is stronger — I am thinking in particular of the martyred land of Christ — we can see that, although always necessary, the political attempts are worth little if spirits remain exacerbated and there is no ability to demonstrate a heartfelt disposition to renew the line of dialogue.
But, who can infuse such sentiments, save God alone? It is more necessary than ever that prayers for peace be raised to [God] throughout the world. Precisely in this perspective, the rosary reveal