Experienced spiritual directors are trained in the art of sacred listening. By attentively listening and reflecting what they hear, spiritual directors help an individual listen to God's call and respond to that call in freedom and in love.
Spiritual direction draws our attention to God's presence throughout the many facets of our daily life. It is not intended to fix or solve any particular issue. However, by sharing our experiences with another, the practice of spiritual direction helps us recognize the ways we are responding to (or perhaps even avoiding) God's invitation to love.
Making Good Decisions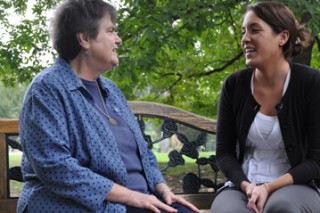 Spiritual direction can be beneficial at any time, and it is especially effective when making a significant decision about your vocation. As women of faith, we are drawn to many things. If you are curious about who God is calling you to be, and how you can best live in relationship with others (in marriage, friendship, religious life, career, volunteer service, etc.), then spiritual direction may be a helpful tool.
Spiritual directors are adept at making sense of the inner movement of the Holy Spirit. Have you ever asked God to "show me a sign" when making a decision? Often those signs are very subtle, but we can know the direction God is calling us by listening to our experiences, exploring our feelings, paying attention to our imagination, and even by examining our fears and hesitations.
Sometimes we "just know" a decision is right! Other times, it can be hard to determine the best choice, especially when deciding between two really good options. But we can make a well informed decision by careful interior listening. We know God's action in our life by paying attention to the moments that bring us joy and identifying experiences of deep peace and consolation. In addition, there will be times when we find ourselves paralyzed by fear, avoiding a decision, or giving in to destructive habits. Perhaps God is trying to speak to us in those moments as well.
The Role of the Spiritual Director
The role of a spiritual director in all of this is to listen with us for the voice of God. When it comes to making any decision, one of the first questions a spiritual director will ask is, "Have you prayed about this? And if so, what was that experience like?" Contrary to the word "director", a spiritual director will not tell you exactly what to do. We are each free to make our own decisions and come to our own conclusions. Rather, they show us the way toward God and direct us to the heart of where God is acting in our lives.
In helping us seek God's desire for our life, a spiritual director can make suggestions for prayer, help us tune into our feelings and the inner movement of the Holy Spirit, provide a different perspective, encourage us to seek information and all possible alternatives, point out potential pitfalls, and help us recognize our patterns of thought.
These are sacred conversations. Almost any spiritual director will tell you that it is a privilege to witness another person revealing their intimate conversations with God. This is not taken lightly, and it is a deeply spiritual experience for the director as well. They value mutual trust, confidentiality, and invite us into a growing spiritual maturity.