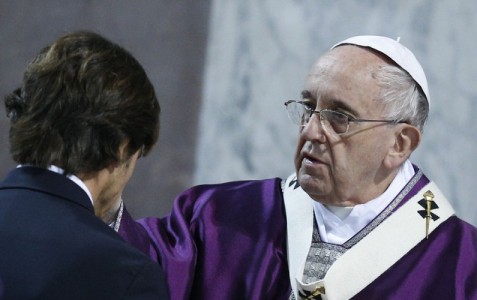 Vatican Radio – March 1, 2017
"Return to me with all your heart… return to the Lord" (Jl 2:12, 13).  The prophet Joel makes this plea to the people in the Lord's name.  No one should feel excluded: "Assemble the aged, gather the children, even infants at the breast, the bridegroom… and the bride" (v. 16).  All the faithful people are summoned to come and worship their God, "for he is gracious and merciful, slow to anger and abounding in steadfast love" (v. 13).
We too want to take up this appeal; we want to return to the merciful heart of the Father.  In this season of grace that begins today, we once again turn our eyes to his mercy.  Lent is a path: it leads to the triumph of mercy over all that would crush us or reduce us to something unworthy of our dignity as God's children.  Lent is the road leading from slavery to freedom, from suffering to joy, from death to life.  The mark of the ashes with which we set out reminds us of our origin: we were taken from the earth, we are made of dust.  True, yet we are dust in the loving hands of God, who has breathed his spirit of life upon each one of us, and still wants to do so.  He wants to keep giving us that breath of life that saves us from every other type of breath: the stifling asphyxia brought on by our selfishness, the stifling asphyxia generated by petty ambition and silent indifference – an asphyxia that smothers the spirit, narrows our horizons and slows the beating of our hearts.  The breath of God's life saves us from this asphyxia that dampens our faith, cools our charity and strangles every hope. To experience Lent is to yearn for this breath of life that our Father unceasingly offers us amid the mire of our history.