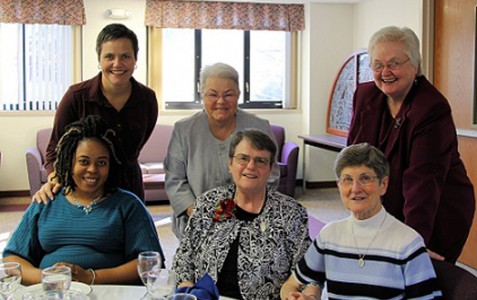 You did not choose me: I chose you and appointed you to go and bear much fruit, the kind of fruit that endures forever." John 15:16
Sister Bernadette Claps (Bernie), CBS reached a tremendous milestone in her life on November Ninth of 2013, when she professed her perpetual vow's-her commitment to serve God as a religious sister for the rest of her life!
Her final vows were celebrated by the community, in a ceremony that began with a liturgy within which Sister Pat Eck, CBS, the congregation leader received Sister Bernie's profession. After the ceremony Sr Pat shared, "This is particularly meaningful to me, since during Bernie's time preparing for this day she lived in the community where I lived."

Sister Bernie shared, "It is hard to describe just how powerful my emotions were throughout the ceremony. I am extremely blessed that God called me to this life of service as a Sister of Bon Secours. It was so special to share the happiest day of my life with my fellow sisters, family, friends and co-workers. When I entered the community four years ago I knew in my heart that this decision would be forever and I wanted to spend the rest of my life living out the Bon Secours charism of compassion, healing and liberation.
Bernie began her ministry experience as a sister working at the Women's Resource Center in Baltimore. She said, "Sharing God's love with these women as they reclaimed their dignity and moved forward towards self confidence and liberation was life giving to them and to me. She is currently the Manager of Spiritual Care and Mission for the Bon Secours Retreat and Conference Center in Maryland providing spiritual direction to those attending retreats and to those in the local area who seek the continued guidance of a Spiritual Director. Sr Bernie helps them to recognize how God is present in their lives.
Note: Sister Bernie was a social worker before entering the Bon Secours community. She shares her remarkable faith journey leading up to becoming a religious sister on: https://lifeasasister.org/meet-a-sister/sr-bernie-claps/