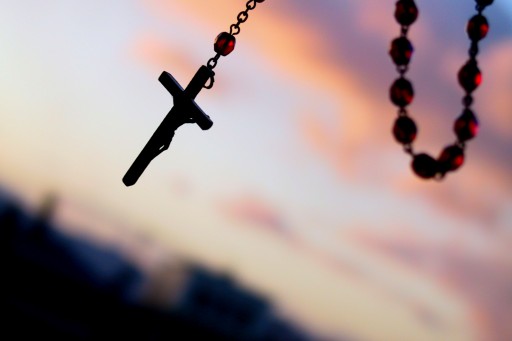 A simple rosary was all it took to entirely dissolve my quarantined wall and let the trapped emotions escape. My already exhausted composure had been stretched to its limits.
As we chanted the first "Hail Mary full of grace…" throughout the intimate chapel, I was determined to keep my crying to a bare minimum. Looking around, I felt as if God was telling me that this was a safe place to mourn, a place to let my emotions take over like they did on Mother's Day, the day my father died.
As we prayed, the familiar sight of my old house blinded my vision, and I recognized the first layer of my wall – the memories. Memories seemed to be the most harmless defense, because they could make me laugh or cry depending on the circumstance.
As the rosary approached its first "Glory Be to the Father…" I approached the second layer of my wall – the unfairness. My father was not exactly a healthy man, but he was too young to die. He was supposed to be there to see me graduate from high school, be the first in my family to earn a college degree, and give me away on my wedding day. I wanted the chance to grow closer to my father as an adult.
Drowning beneath feelings of anger and pity, I found myself crying silently. I bent my neck low, so as to not let anyone see my embarrassing display of emotion. A hiccup sounded next to me, and I realized that my disguise was not complete, as my best friend had now joined me.
Knowing that someone else was truly feeling empathy towards me brought down the final wall – the unseen future. I finally felt the loss of a future without my dad, the many "could-have-been" moments and the memories yet to be made. Like wading into the deep end of a pool, I suddenly felt the sharp slant into the unknown. Leaving behind the security of having two feet on solid ground, I completely immersed myself in the waters of my own grief. I let the emotions entirely take over for the first time since that dreaded day in May, and I will never look back.
There was a part of me that was scared to feel pain and grief, because I thought I would be overwhelmed by it to the point where I could never move past it. I needed to step back and let the grieving process take hold of me and stop trying to take hold of it. My struggle to keep-it-together for the last several months had done nothing more than decrease my progress to a complete standstill. I was completely oblivious to the outside world until I was enveloped in the loving arms of a friend. As the arms of my friends pulled me from that sea of despair, I realized that I would be okay if I just let myself grieve.
I know it is a cliché, but I discovered that I could still, in fact, continue with my life even though my father is not here. With the support of my friends and family, my life will carry on, always conscious that he is looking out for me; and I know I will make him proud.